QuakeWorld GFX: Dress up your QuakeWorld
Tuesday 29th May, 2007 |
I have been working on a new website that will focus on QuakeWorld graphics. The name of this site is yet to be decided so I will call it "QuakeWorld GFX" in the meantime.
The aim of this site is to create a well structured database of nice eyecandy for QW. At the moment, custom graphics for QW are spread out over the internet and are hard to find (some may be found in qw.nu forum).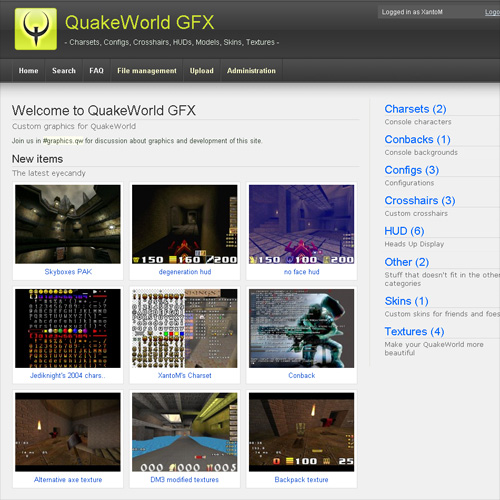 QuakeWorld GFX is still under construction but most of it is complete. Those who registered for Goldrush can use the same details to login, once logged in you can upload and edit your submissions.
Another thing I hoped for with this site is to create a good FAQ-section for graphics, which everyone is free to contribute questions and answers (you have to login to create FAQ entries).
This is also a first step towards a better collaboration with QuakeWorld.nu, which user database will be used for login when the development stage is over. I recently got administrator status over at qw.nu forum and will try to organize the "Custom Graphics" section so it goes hand in hand with this new website (forum section for each category on the gfx site).
Feel free to post your thoughts/suggestions here or join us in #qwdrama for discussion about graphics and further development of QuakeWorld GFX.
(I will do my best to release Goldrush 1.0 asap once the gfx site is complete)
Thats all for now, GGs.